Daniele Lucchini - Diary From The Quarantine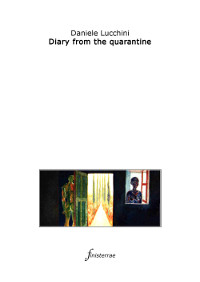 During the last week of February 2020, a COVID-19 focus was discovered in a few small municipalities in Northern Italy. After locking soon those villages, the night between 7 and 8 March 2020 the Italian government put in lock down the entire Lombardy, which is the region of Milan and the most populated of the country. One day later it was the turn of the whole nation.
Not only Lombardy is known for Milan; it is also the region of Mantua, a small town today which was one of the main centres of the Renaissance in the XV and XVI centuries. And the place where the author lives, and where he has been keeping a journal in real time since the beginning of the emergency.
"Well, because of the coronavirus, the night between 7 and 8 March 2020 we became a so called red zone, and we are going to be until April 3. During the next weeks, being forcedly unemployed as a tour guide (which is my only job now), I'm going to monitor the situation, keeping a sort of a diary, trying to avoid fake news and panic speech", are the words opening the diary.
Mr. Lucchini is noting the daily live in quarantine: old and new routines, government instructions, emotions. Passing from reports to poetic annotations and to frank opinions with "no care for politically correct speech", as he states in the foreword.
Of course, a text written on the spur of the moment, in real time, but always lucid and reliable.
Actually this is the first book ever published about the COVID-19 lockdown; yet, it is posing questions and anticipating facts that have been coming out in the following months.
---
A short passage from the book

« So, after being emailed the usual prescriptions by my doctor, early this morning I decided to pop over a pharmacy. As I don't want to be seen around by people ("Brother example is the best teacher", Franciscan friars were used to say), yesterday I had phoned the only pharmacy doing night service in town to agree my purchase on the flight. The pharmacy is about a kilometre away from my place.
Normally I walk this distance in less than ten minutes, but this time I preferred to take it easier. Having agreed my turn with the pharmacy at 5 in the morning, when nobody is around, I can enjoy a relaxing promenade through the empty streets. I have to say in ordinary moments it has happened sometimes that I had to be around just before dawn, before the city wakes up, and I have always liked the atmosphere. Now I like it even more, as it is also a responsible choice of time.
The only human epiphany I have along my round trip promenade is a police car patrolling the alleys around my address. I am pleased to see they are patrolling, and I guess they are pleased to see I am alone and probably going back home. We pass by each other with no words, but a mutual slight wave.
But the real epiphany, the one making my day already before sunrise, is a colourful paper sheet stuck over a wooden door. A smiling cloud sat on a rainbow coloured fringe and a few letters clearly sketched by the unsteady hand of a little kid. "Everything will be alright" the childish writing says. I think so too, my puppy. Be brave. »
Summary

 Foreword
 Sunday, 8 March 2020. Day 1
 Monday, 9 March 2020. Day 2
 Tuesday, 10 March 2020. Day 3
 Wednesday, 11 March 2020. Day 4
 Thursday, 12 March 2020. Day 5
 Friday, 13 March 2020. Day 6
 Saturday, 14 March 2020. Day 7
 Sunday, 15 March 2020. Day 8
 Monday, 16 March 2020. Day 9
 Tuesday, 17 March 2020. Day 10
 Wednesday, 18 March 2020. Day 11
 Thursday, 19 March 2020. Day 12
 Friday, 20 March 2020. Day 13
 Saturday, 21 March 2020. Day 14
 Sunday, 22 March 2020. Day 15
 Monday, 23 March 2020. Day 16
 Wednesday, 25 March 2020. Day 18
 Thursday, 26 March 2020. Day 19
 Friday, 27 March 2020. Day 20
 Saturday, 28 March 2020. Day 21
 Sunday, 29 March 2020. Day 22
 Monday, 30 March 2020. Day 23
 Tuesday, 31 March 2020. Day 24
 Wednesday, 1 April 2020. Day 25
 Thursday, 2 April 2020. Day 26
 Friday, 3 April 2020. Day 27
 Saturday, 4 April 2020. Day 28
 Monday, 6 April 2020. Day 30
---
Daniele Lucchini
Diary from the quarantine

ISBN: 9780244581572
first English edition 2020
Finisterrae 52

🛍️ Acquista in:
ebook pdf a € 4,99
brossura a € 13,00 »
ePub a € 4,99 »